As we all know, Steam is one of the biggest and most popular game distribution platforms. However, are you experiencing Steam repeatedly showing "Missing downloaded files" when you try to download or update a game? It is really frustrating and disconcerting when you cannot start or play your new games on your Steam. And if you don't fix the issue manually you won't be able to play the game.
In this blog, we will provide a complete solution on how to fix the error of Steam missing downloaded files effortlessly and successfully, you can try them in turn.
Common Causes of Steam Missing Downloaded Files
Before introducing how to fix the error of Steam missing downloaded files, let's try to explain and understand what caused it to happen. Here are some of the most common reasons that may cause missing downloaded files on Steam.
Corrupted Game Files
The downloaded game files might be damaged by malicious software and if the downloaded files get corrupted, the file cannot open, or update properly.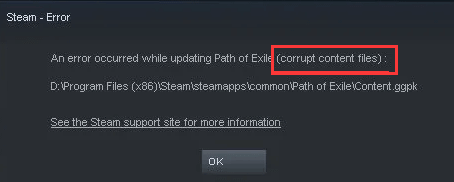 Interrupted Downloads
If the game isn't downloaded correctly or has been interrupted during the downloads, you may find some parts of it losing, or the game may crash.

👉 You May Also Interested in: How to Fix Windows Defender Security Warning
Storage Issues
Insufficient storage space on your computer or the drive where Steam is installed can result in missing game files.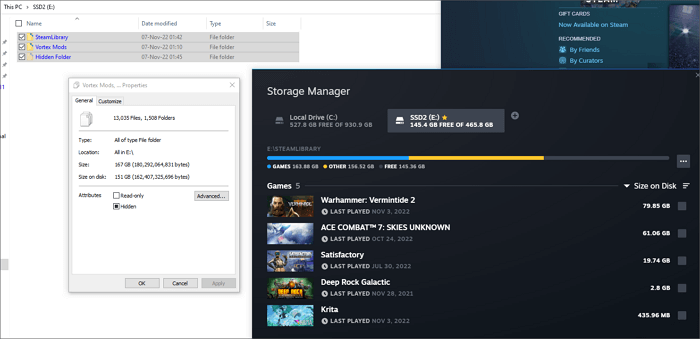 How to Fix the Error of Missing Download Files Steam
Here we provide several methods that can help you fix the issue of missing download files in Steam. You can restore lost Steam game files from the Steam library, disable third-party software, move or reinstall the game to make the game playable, and more. Let's explore these methods one by one.
Method 1: Use the "Verify Integrity of Game Files" Option
Verifying game files can fix this issue for you since the "Missing downloaded files" error may happen if you have recently paused and resumed a download multiple times, causing the files to somehow be damaged.
Thus, you can use the "Verify Integrity of Game Files" option in the Steam client to check for and redownload missing or corrupted game files.
Here are the steps to Use the "Verify Integrity of Game Files":
Step 1. Open up Steam game player on your device and go to Library. Then Right-click the game which you have a problem with, then select Properties.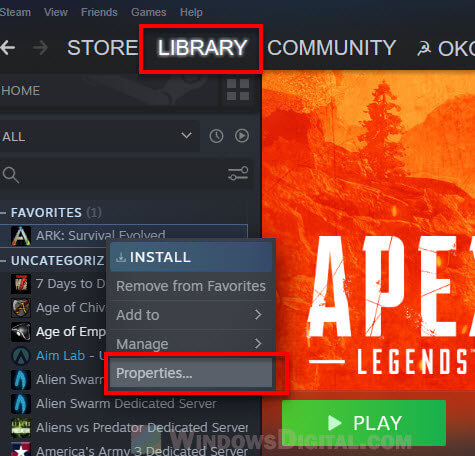 Step 2. Navigate to the Local Files tab, and click on Verify Integrity of the Game Files.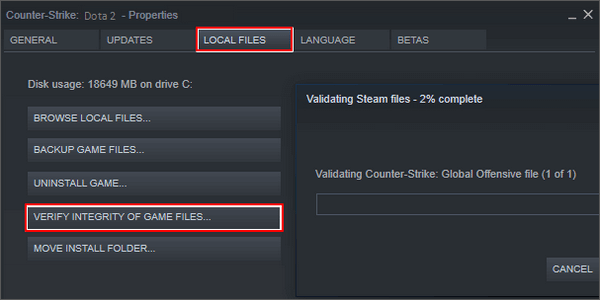 Method 2: Disable Third-Party Software
Sometimes the antivirus or firewalls might identify some game files as a threat and interfere with the download process, thus you can temporarily disable or configure third-party software to fix the steam missing downloading files issues.
Here, we take disabling Windows Defender as an example:
Step 1. Press Win + I to open Windows Settings.
Step 2. Scroll down to find Update & Security.
Step 3. In the Windows Security tab, hit Virus & Threat Protection settings.
Step 4. In the new window, click Manage settings and then choose to turn off Real-time protection.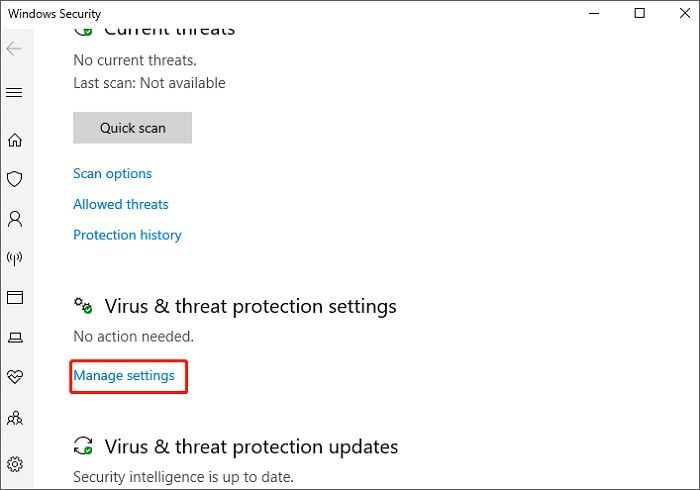 Method 3: Move or Reinstall the Game
If you still can't fix the missing downloaded files error on Steam, try to consider moving or reinstalling the game. However, it is noted that you should create a backup of the game files as the fix will delete all user content.
Here are the steps to reinstall a game on Steam:
Step 1. Launch Steam and move to Library.
Step 2. Find the desired game from the left pane and click Manage > Uninstall as shown below.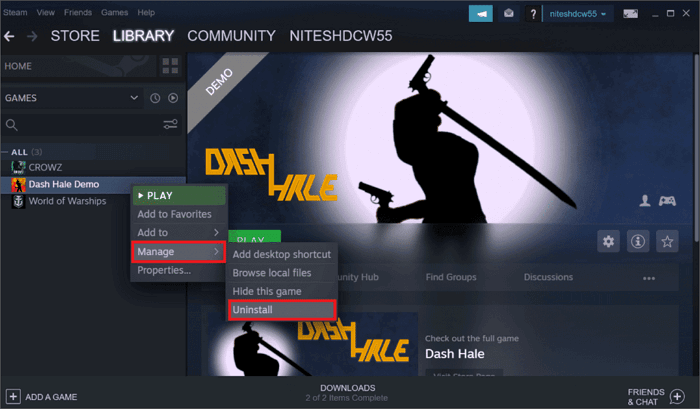 Step 3. Confirm the pop-up window by clicking Uninstall once again.

Step 4. After the uninstall process is done, reinstall the game on Steam.
If you have found that uninstalling the game isn't working properly for you, try the below method. But remember to back up your game before trying to reinstall it. If your game isn't saved when you uninstall it, you could lose all the game data.
Here are the steps to move a game on Steam:
Step 1. Launch Steam and move to Library.
Step 2. Find the desired game from the left pane and right-click it.
Step 3. Select the Delete Local Content option from the right-click menu.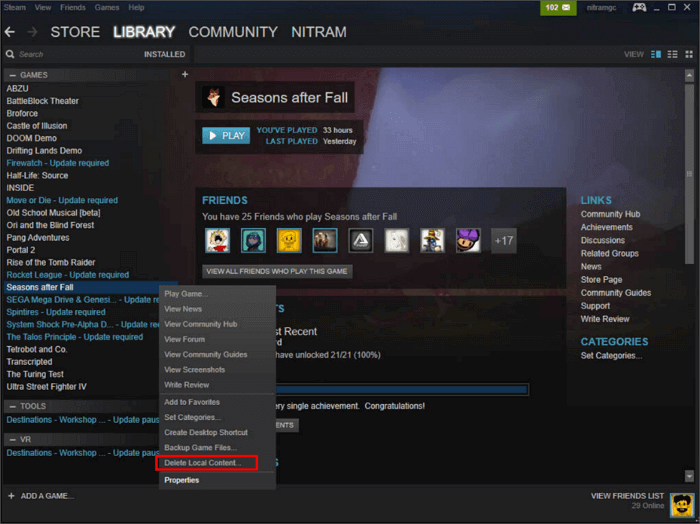 Step 4. Wait until the game has been removed and then you can restart your computer.
Step 5. Download the game again and then run it as administrator.
Bonus Tip: Recover Game Files Using Recovery Software
Apart from malicious software, power surges, and system crashes, game files can also be missed due to deletion. If all these methods mentioned above cannot help you fix the Steam missing downloaded files issue, the files might have been deleted.
Here we recommend you try an effective recovery program that can recover deleted files and file folders. ONERECOVERY is a professional software to get back your valuable files in data loss scenes. This tool is compatible with Windows and Mac, without any complicated steps, making you experience the satisfaction of regaining.
More importantly, it's a free-to-download data recovery tool, you can use it to scan and preview files deleted from your computer for free. With the click of a button, you can restore lost and deleted files, videos, and audio files easily.

Spotlight of ONERECOVERY:
Supports recovery of lost or deleted files from various storage devices, including USB flash drives, digital cameras, and SD card recovery.
Supports almost all formats of videos and audio, including all common formats like AVI, FLA, FLV, M4V, MOV, MP4, WMV, AAC, AIFF, ALAC, FLAC, MP3, OGG, PCM, WAV, WMA, etc.
Restores deleted files without damaging their original quality.
95% success recovery rate.
It is convenient for you to perform recovery by yourself and save turnaround time.
Download Information:
Steps to Recover Files in ONERECOVERY:
Step 1. Download, install, and launch ONERECOVERY software on your system.
Step 2. Select the location where you lost game files. The ONERECOVERY will start scanning the disk to search for your lost data and files.
Step 3. After the scan is completed, you can check all recovered files and preview some recovered files. Choose your files and click on the "Recover" button".
Step 4. Finally, save the recovered files on a safe hard disk or other devices.
Conclusion
After reading this article, you might know several ways to find your game back in the Steam library where it belongs. Players could try to restore lost Steam game files using the Steam library, disable third-party software, and move or reinstall the game.
If any of these methods don't work for you, you can turn to a professional data recovery tool to get back the deleted game files. All of your lost data can be easily recovered on a computer's hard drive, a flash drive, an SD card, or any other external storage device with the help of ONERECOVERY.
Frequently Asked Questions
If you have more questions about the games on Steam, those FAQs may help you a lot.
How to solve the problem of Steam deck-installed games disappeared?
Some simple methods will hopefully help you solve the problem of disappearing or missing games for installed games on Steam.
● Start Steam as an Administrator.
● Unhide the Game on your Steam Client.
● Check Steam Filter Settings.
● Correct the Default Steam Install Folder.
For more detailed instructions on solving the problem of Steam deck-installed games disappearing, you can click here.
How can I prevent missing download files in the future?
It is better to take some measures to prevent missing download files:
● Install more than one backup of files and regularly update data backup. You can back up the important files on your PC with OneDrive or another backup, which can protect your files from being lost.
● Do not open malicious sites on your system. Free software is often infected with the malicious virus that can damage your system and compromise your data.
Can third-party software interfere with downloads on Steam?
There is a potential for third-party software conflicts when you open multiple applications at the same time. Some software on your computer might conflict with the game's launch while affecting Steam downloads. Therefore, such apps should be turned off before you can attempt downloading from Steam again.
Why do my downloads keep stopping on Steam?
The failed downloads can be a result of interference from third-party software or your network connection. For the third-party software, you can close the applications until you can download it. For the other reason, you can try to adjust Steam's bandwidth settings to make your download speed match your network connection.
Here are the steps to adjust Steam's bandwidth settings:
Step 1. Launch Steam.
Step 2. Then go to your Settings. Select 'Downloads' then 'Limit Bandwidth'.