You may have spent much time creating your homeland on Minecraft World, but it can be deleted accidentally or damaged by malware within seconds. It is really irritating and frustrating when you meet with this trouble. Thankfully, there are still ways to your Minecraft world as it is just data. This post will take you through how to recover a deleted Minecraft world on PS4, Windows or mobile devices.
How Are the Worlds Stored in Minecraft
There are two versions of Minecraft – Java Edition and Bedrock Edition, and they are stored in different locations. In Java Edition, Minecraft Worlds are saved in the ".minecraft\saves" folder, in which each of the worlds will have a separate folder to store data. Bedrock Edition also provides each Minecraft World with a separate folder. The difference lies in the folder in Bedrock Edition is named "games/com.mojang/minecraftWorlds".
In addition, the location of your Minecraft worlds varies depending on the device you are using as well. The chart below lists the locations of Minecraft Worlds commonly stored in various devices:

What Happens to Deleted Worlds in Minecraft
There can be a variety of reasons why your Minecraft world is deleted. When a world is deleted in Minecraft, whether accidentally or intentionally, it is removed from the game and cannot be accessed anymore. You are unable to find the deleted world as well as all its relevant stuff like blocks, items, and mobs in your Minecraft account. Fortunately, they once left a mark on your device and you can apply some methods to get them back. It is also recommended that you create a backup of your world so that you can restore it easily later if it is deleted unluckily.
Now that you have known the storage locations and the results of deleting a Minecraft world, let's move on to learn about how to recover a deleted world on various devices.
How to Recover a Deleted Minecraft World on Windows 10/ 11
When you are a Windows user, generally there are two common, useful solutions to help you recover your deleted Minecraft world effectively.
Recover Deleted Minecraft Worlds from Backup
If you have a backup of your deleted Minecraft world, you can recover it in an easy manner. As there are two different versions of Minecraft, the steps to restore your world from backup differ based on the version you are running.
In Java Edition
If you are using Java Edition to create your Minecraft worlds, access the folder that contains your backup copy of the deleted world and move it to a new folder. Here are the detailed steps to accomplish it:
Run Minecraft to create a new wolrd and save it, which will generate the new files required later.
Hit the Windows and R keys (Win + R) on your keyboard to open the Run dialog.
Type in "%appdata%" and press the Enter key to open the AppData folder.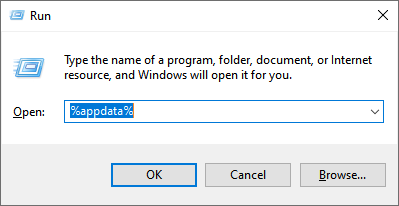 Double-click on the ".minecraft" folder when you are in the AppData folder.
In the new interface, double-click on the "saves" folder. At the moment, the directory on your window should be "\ Users \YourName \AppData \Roaming.minecraft \saves".

Image Source: 4DDiG
Now open your backup worlder folder, and then select and cut the "Level.dat", "Level.dat_old", "session.lock", and "spc.settings" files.
Go to your new world's folder and paste the files you cut just now to replace the existing ones.
At last, launch Minecraft again and load your new world. You will find your deleted world is there.
In Bedrock Edition
If your Minecraft is running in Bedrock Edition, the road to recovery of a deleted world is different from Java Edition, and you should follow the guidelines below:
Quit Minecraft and relaunch it. Next create a new world with the same settings as your deleted world, and then save and close it. Once done, close down Minecraft too.
Hit the Windows and E keys (Win + E) to open File Explorer.
Go to your Minecraft backup folder in accordance with the following directory "C:\ Users\ Sumit\ AppData\ Local\ Packages\ Microsoft. MinecraftUWP_8wekyb3d8bbwe\ LocalState\ games\ com.mojang\ minecraftWorlds".

Double-click on the "db" folder from the list
Select the db folder of your deleted world and copy everything in it.
Navigate to the db folder of the new world that you created in the first step and paste the files you copied from your deleted world's db folder previously.
Now you can run MinecraftWorlds and open the new world to see your deleted world by going to Worlds.
Restore Deleted Minecraft Worlds from a Previous Version
Windows boasts a backup and restore feature that can automatically and locally store your selected data including your Minecraft folders. Therefore, if your Minecraft world is deleted before you can save its copy, it is possible to restore it from its previous version no matter whether you play Java Edition or Bedrock Edition. Follow these steps to employ this function:
Start by opening the Run dialog with the Win + R shortcut.
Type in "%appdata%" in the box and press the Enter key.
Click the "Roaming", ".minecraft", and "saves" folders successively.
When you come into the saves folder, right-click on the blank area and select the "Properties" option from the drop-down menu. Alternatively, you can open File Explorer and select the "History" option from the "Home" tab in this folder.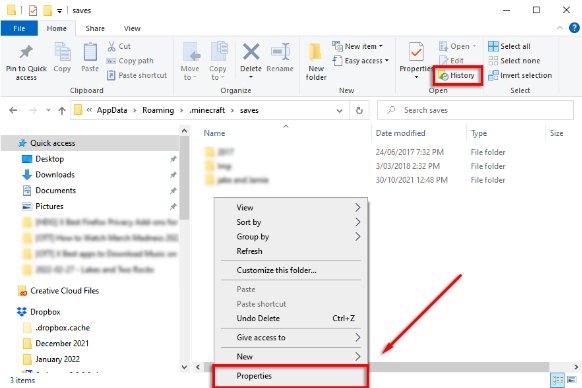 Image Source: ONLINE-TECH-TIPS
In the new pop-up window, click on the "Previous Version" tab.
Under the "Folder versions" section, choose the folder that contains your deleted Minecraft world, and then press the "Restore" button.
Launch Minecraft to check if your deleted world is recovered well.
How to Recover a Deleted Minecraft World on PS4
It is not difficult to get your lost Minecraft world back if you are playing the game on your PS4 and have saved its data online. Here's how to do it the right way step by step:
Open the main menu of your PS4 and go to Settings.
Click on the "Application Saved Data Management" option.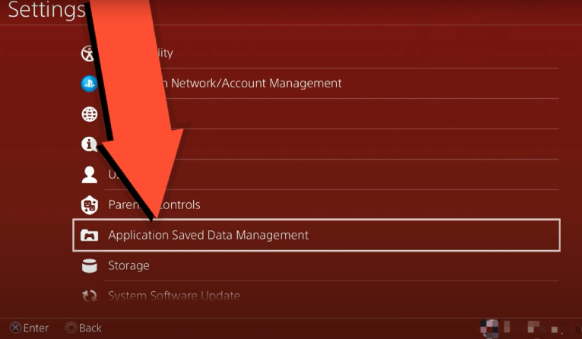 Click on the "Saved Data in Online Storage" option.
Select the Minecraft PS4 Edition that includes your deleted world and download it on your device by pressing the "Download" button at the bottom right corner. You should be able to see the deleted Minecraft world when you go back to the loading screen.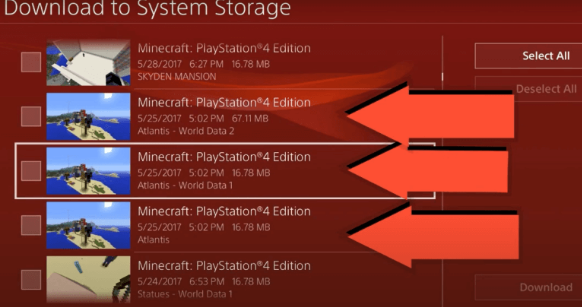 How to Recover a Deleted Minecraft World on iPhone or Android
When it comes to mobile devices, you will be unable to recover your deleted Minecraft world on mobile if you do not have any backup. Please note that you have to take the backup of your entire phone to back up your Minecraft worlds. If you have had a working backup, it is rather simple to restore your deleted world. However, the specific methods are different depending on the device you are using. Here we will provide effective guidelines respectively for iOS and Android users.
For iOS Users
Go to Settings on your iPhone.
Open iCloud by clicking on it.
Select the "Backups" option from the menu.
Select the Minecraft backup and wait for the restoration to complete.
For Android Users
Navigate to Settings.
Tap on "Accounts and backup".
Select "Restore data".
Choose your device.
Select the "Apps" option and press the "Restore" button. Make sure you are restoring the Minecraft app inside Apps.
Can I Recover a Deleted Minecraft World on Xbox
Some people think that it is impossible to recover a Minecraft world when it is removed from Xbox. However, that's actually not a precise statement. There is still a possibility that a deleted Minecraft world might be available on Xbox Cloud. If you are in need, you can have a try following the below instructions:
Launch the Minecraft game and press the Play menu on your Xbox One console.
Scroll down to tap the "Sync Old Worlds" option, and you will see a list of your Minecraft worlds stored on Xbox Cloud.
Locate your deleted world and select it.
Press the "Download" button to get this world back to Xbox One.
Note: If you fail to find your deleted world in the Sync Old Worlds list, it should be permanently removed from the Cloud and there may be no way to restore it.
FAQs
Does Minecraft backup itself automatically?
Yes, Minecraft has a default autosave feature that make it capable of saving the game and world data automatically every few seconds to five minutes.
How to back up Minecraft Pocket Edition (PE) worlds on Android?
You can back up your Minecraft PE worlds through File Explorer. Simply open the program and navigate to "/sdcard /games /com.mojang /minecraftWorlds". Then locate the worlds you would like to back up. Right-click on their folders and select "Copy". After that, go to a different location, right-click on the blank area, and select "Paste" to create the copies of your Minecraft PE worlds.
Can I recover deleted Minecraft world without backup?
Yes, even if you don't back up Minecraft world, you still can retrieve them with professional data recovery software. Minecraft world are temporarily saved in your hard drive when you created them. Thus, professional file recovery software such as ONERECOVERY, Tenorshare or EaseUS can thouroughly scan your drive for deeply buried files. You can recover deleted photos and videos from canon camera, USB flash drive or any storage devices in 3 steps.
Conclusion
For Minecraft players, it can be a disaster to find that a Minecraft world is deleted. This post introduces several effective solutions to recover deleted Minecraft worlds on various devices, including PS4, PC, Android, iPhone, and Xbox. If you are unfortunately facing such a trouble, you can follow and try the above methods to achieve recovery. Hopefully you can get your world back at the end. If there are any other puzzles, please feel free to leave a comment and we will try to offer help as soon as possible.