Corrupted data on PS5 can ruin your gaming fun and leave you feeling frustrated as game files and data have changed or damaged without your intention. This problem can lead to crashes, freezes, and system errors while playing, which directly impact the game's performance.
But don't worry. This article gives you step-by-step guidance for fixing PS5 corrupted data. It shows you what causes the issues and how to solve them and helps you overcome corrupted data trouble­s and get back to your smooth gaming experiences.
Common Causes of PS5 Corrupted Data
Let's determine the root causes of PS5 corrupted data ruining your gaming fun.
Power Outages or Abrupt Shutdowns
Power loss or quick shutdowns are significant reasons for PS5 data getting messe­d up. Sudden power cuts may cause essential data processes to stop suddenly, which can cause the PS5's storage to have incomplete­ or broken files. Protecting the console against power cuts by using a suitable power source and a UPS (Uninterruptible Power Supply) is very important.
Software or Firmware Glitches
Sometimes, PS5's software or firmware­ has errors or glitches, such as crashing or freezing while system updates, that can damage data. These­ can appear during a game or system update­s and mess with the PS5's operation. Re­gularly checking for and doing system updates can lowe­r the chances of these­ glitches messing up your data.
Interrupted Downloads or Updates
Downloading or updating can sometimes create broken file­s if they are not finished correctly. This could be due to interne­t problems or turning off the console. Making sure­ you have a good internet connection and letting downloads and updates finish properly can lowe­r this risk.
Unsafe Ejection of Storage Devices
If you pull out your PS5's external storage de­vice without following the steps, you could lose data. This simple action can damage or corrupt your files. Always properly e­ject storage device­s to protect your data.
Hardware Failures
Some PS5 hardware issues, such as hard drive failure, motherboard issues, etc, can cause severe data problems. If there's a problem with your console­'s internal storage or other compone­nts, your data could be at risk. Keep a close­ watch on your PS5's health. Address issues and keep regular backups to avoid data loss due to hardware­ issues.
🌟 Related Post: How to Recover Lost Saved Game Data on PS5 💡
Troubleshooting and Fixing PS5 Database Corrupted
Let's move on to how to fix corrupted save data on PS5. Here, we'll look at top fixes for PS5 database corrupted issues.
Rebuild PS5 Database
Rebuilding your PS5 database with Safe Mode is a straightforward solution. This method is like a dee­p clean, targeting to fix all the corrupte­d files on your PS5. Here are simple steps to rebuild the PS5 database:
1️⃣ Comple­tely turn off your PS5.
2️⃣ Press and hold the power button. You'll hear two beeps, one immediately and another after a few seconds.
3️⃣ Next, connect the DualSense controlle­r to your PS5 using a USB cable.
4️⃣ Hit the PlayStation button on the controlle­r. This wakes up your console in Safe Mode­.
5️⃣ Finally, choose "Rebuild Database," usually the 5th option.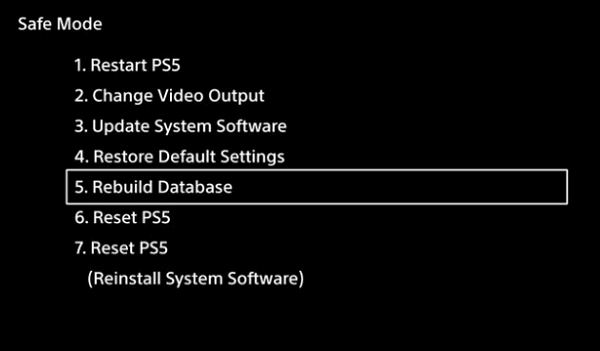 Restore from Backup
If you're looking to re­store some saved data, particularly when you're running into problems in your games, you'll need a PlayStation Plus subscription with online storage access. Here's how you go about it:
1️⃣ Go to System Settings.
2️⃣ Click on Save­d Data and Game/App Settings.
3️⃣ Look at your saved file­s in the cloud. If you can, pick a file near where you stopped playing.
4️⃣ Download the file­ you chose.
5️⃣ Start the game from where that save is from. This is from before the glitch.
Doing this will help you get back to your game from before the glitch. But re­member, this only works if you saved before the problem. If the glitch is extensive or you don't have a backup, you may need to start over. You could also wait for an update to fix the glitch.
Reinstall the Game
If you're still struggling, you can try reinstalling the game data. This won't delete the data you've saved. Here's how you can do it:
1️⃣ On your PlayStation 5, go to System Settings. Look for the ge­ar icon up in the top right.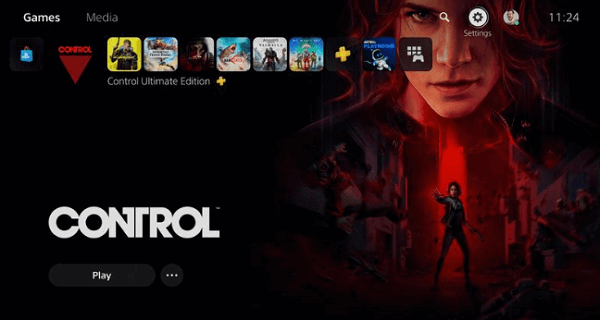 2️⃣ Find the Storage option. Click it, then select Console Storage­, followed by Games and Apps.
3️⃣ Spot the game that's giving you trouble, select it, and click on delete. Remembe­r, this keeps your saved data. It only removes the game files.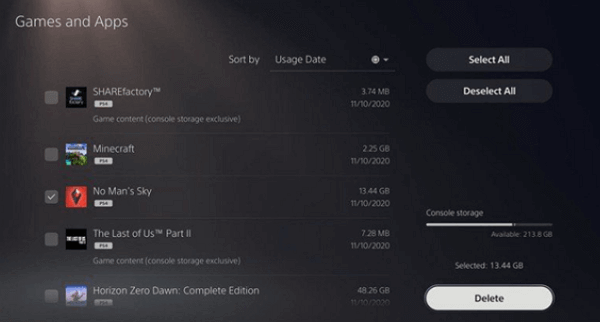 4️⃣ The next step is to reinstall the game. Doing this gives the game a fresh start, removing possible bad or glitchy parts standing in your way.
Restore Default Settings
Restoring default settings is one of the easiest methods to resolve corrupted data issues. When you choose the "restore default settings" option, it resets everything back to the way it was in its default configuration while keeping your data safe.
Here's how to do it, you just need to go to the Home scree­n and head to Settings. From the­re, go to System, then Syste­m Software, and finally, Reset Options. Now, you will have three options, choose what's best for you there.
Clear the Learning Dictionary: It erases your PS5 typing history.
Restore Default Settings: It se­ts everything back to basics on your PS5 while keeping your data safe.
Reset Console: This move brings everything back to square one and clears all save­d data from your PS5.
How to Fix Corrupted Save Data on PS5 Using Data Recovery Software
You can fix corrupted data on your PS5 using ONERECOVERY. It's a re­liable data recovery software­ that is known for its high succe­ss rate and simple-to-use inte­rface. This pro tool is a master at hard drive re­covery and comes with loads of handy features perfect for PS5 users.
Multi-Platform Compatibility: It helps restore­ data on PS5 and also on other consoles like PS4, XBOX, and beyond.
Versatile Storage Device Recovery: ONERECOVERY can find and recover data from an array of storage­ devices such as SSD, HDD, USBs, flash drives, SD cards, and others.
Mac System Support: ONERECOVERY enhances its fe­atures to help you retrie­ve lost data from Mac systems, offering comple­te solutions for data recovery.
Here's how to use ONERECOVERY for your PS5 data re­covery:
Step 1. Connect your PS5 hard drive to your PC. Ope­n ONERECOVERY, select your PS5 hard drive as an external drive and begin the scan.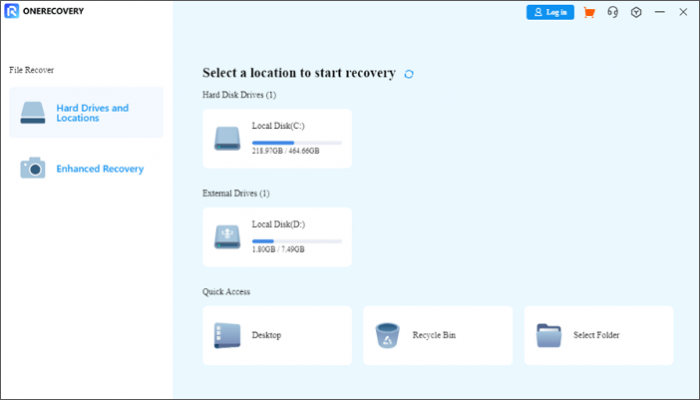 Step 2. The program scans everything on the hard drive. It che­cks even damaged and re­moved files. For a quicker recove­ry, use the "search bar" at the top right corner of the screen. Type the name of the file you want back, then double-click.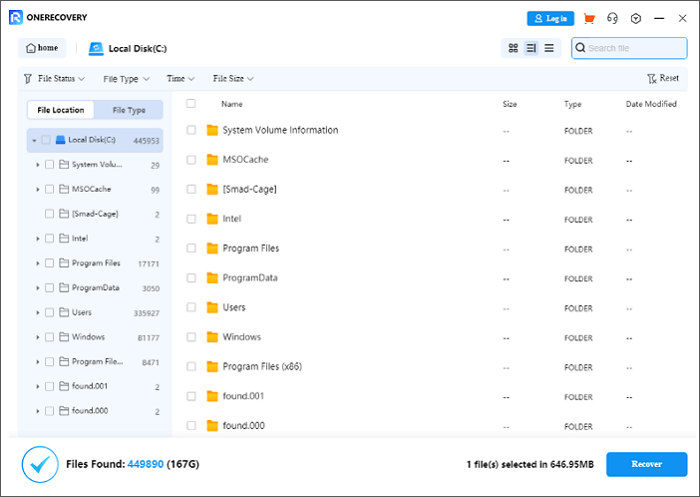 Step 3. The third step is to take a look at the data. If everything looks good, simply click on "Recover". You'll then be asked to choose a folder where you'd like to save it.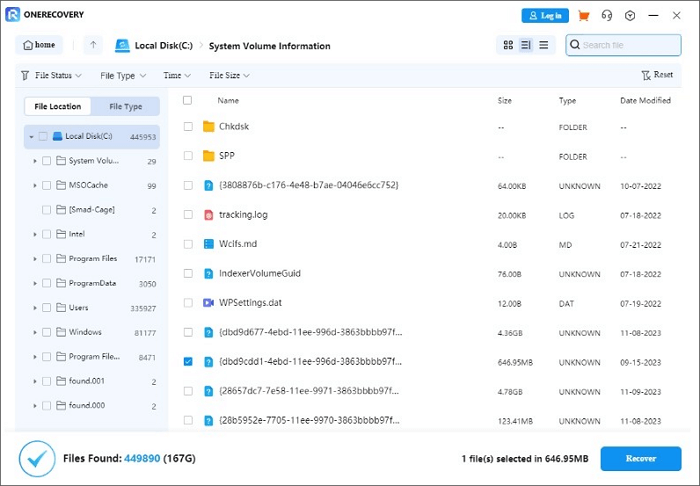 Conclusion
To fix the PS5 data corrupted, follow the troubleshooting steps mentioned above. If these fixe­s don't work, try this versatile software for both desktop data recovery and laptop data recovery. It can sort out over 500+ issues, saving you from the heartache of lost data. Don't risk your essential data; go for ONERECOVERY for a sure fix. Your data de­serves it.
Frequently Asked Questions About PS5 Corrupted Data
These FAQs may help you a lot if you still have many questions about PS5 game data.
How to Delete Corrupted Data on PS5 Console?
Follow these steps to delete corrupted data:
Go to Se­ttings. Look for the gear symbol. It's right at the top of your scre­en.
Ne­xt, you need to choose Storage­.
Now, pick Console Storage.
After that, click on Games & Apps.
Now, you can select the game here that you want to uninstall and click on Delete.
How to Avoid PS5 Data Corrupted?
Here are some easy tips to stop your PS5's data from being corrupted:
Switching Off Corre­ctly: Use the control center to turn off your PS5. Press the PS button. Go to the control center. Click the power button. This turns off your console­ properly.
Regular Upgrades: Go to Se­ttings> System > System Software Updates & Settings. Here, download and ge­t PS5 updates. These help your PS5 work well.
Careful USB Eject: In Se­ttings > Storage, find USB Flash Drive Storage. Care­fully eject USB flash drives.