Blink Camera is a wireless camera that helps you monitor your home day or night with infrared night vision. It stores the clips and videos in the Cloud. However, these files sometimes are prone to losing or accidentally deleted. Losing videos from Blink cameras may be a frustrating thing to you, but luckily, in this article, we will discuss several ways to recover deleted Blink cameras. Let's dive into it!
Part 1: Where are Blink Videos Saved/Stored?
The Blink camera videos are saved in the Amazon Cloud server for 30 or 60 days, after which they are automatically deleted. Or it can be stored locally on the USB flash drive connected to the Sync Module 2 hub, depending on the camera model. They can also download the videos from the Blink app.
Part 2: Can I Recover A Deleted Blink Video from Blink Camera
If your videos are deleted on the Blink Cloud storage, they are permanently erased and cannot be recovered from the cloud server.
If your Blink videos have stored the video on local storage (USB stick) and it is deleted, you can easily recover them from the Cloud or use a trustworthy Blink video recovery tool. It is noted that stop using the Blink Camera USB Flash drive after losing the videos to prevent data overwriting.
If your videos cannot be found on the Cloud, the only way is to use a third-party recovery tool to retrieve the files.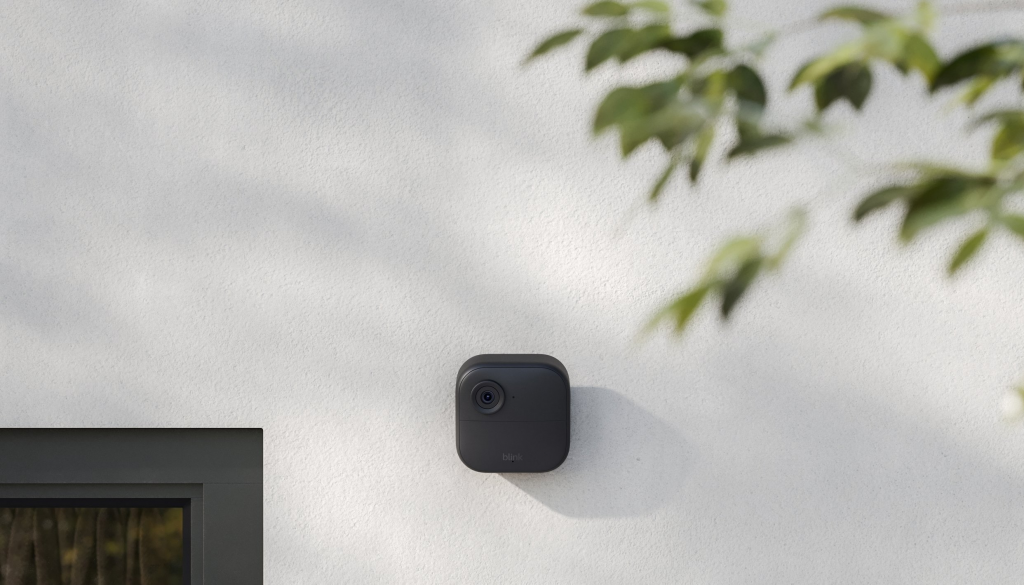 image resource: blink smart security
Part 3: How to Retrieve Deleted Videos from Blink Camera 
ONERECOVERY is an efficient and professional software to get back your valuable files in data loss scenes. Losing precious videos from Blink camera is heartbreaking, ONERECOVERY understands this and offers the best deleted video recovery software. Only 3 steps can you recover deleted videos from Blink camera. More importantly, it's a free-to-download data recovery tool, you can use it to scan and preview videos deleted from Blink cameras for free. With the click of a button, you can restore lost and deleted images, videos, and audio files easily.
Features:
Supports recover deleted or lost videos from various storage devices, including USB flash drive, digital cameras, security cameras, drones, SD card.
Supports almost all formats of videos and audio, including all common formats like AVI, FLA, FLV, M4V, MOV, MP4, WMV, AAC, AIFF, ALAC, FLAC,  MP3, OGG, PCM, WAV, WMA, etc.
Restores deleted videos without damaging their original quality.
Support recovers lost or deleted videos and photos from popular security camera brands.
Here's how to recover deleted Blink videos using ONERECOVERY:
Step 1: Install and launch ONERECOVERY on your PC or Mac.
Step 2: Connect the USB flash drive where your Blink video clip was stored to the computer.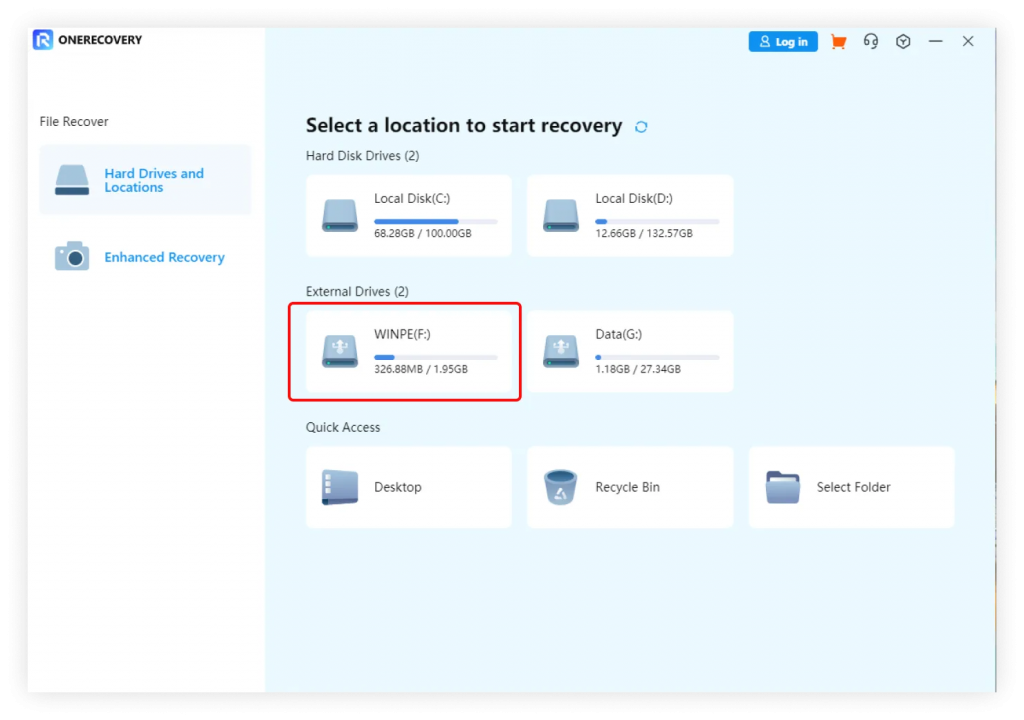 Step 3: Select the device as the target location for the process and click on the "Scan" button.
Step 4: The ONERECOVERY will start scanning to search for your lost videos, and you can preview all scanned files per your needs.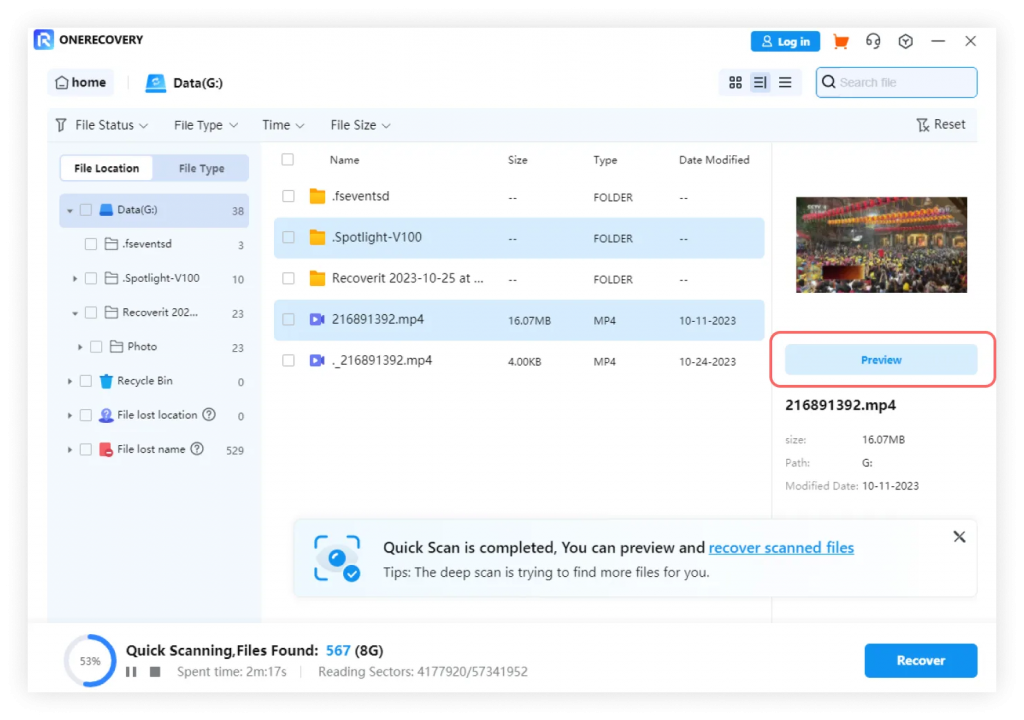 Step 5: After the scanning process is completed, you can preview all recoverable file. Select your recovered Blink video by clicking the "Recover" button.
Step 6: Your videos will be successfully recovered.
Part 4: Bonus Tips on Blink Clip Backup
Why Blink Clip Backup Fail
Several common reasons can be explained why your Blink clip backup failed; 1) No active subscription plan. If you want to use the Blink clip backup feature, a subscription plan needs to be activated. 2) Check that your Sync Module is properly connected to your Wi-Fi network. 3) The USB flash drive is not compatible with Blink. 4) The USB flash drive is full. Blink Camera requires at least 380 MB of free space. 5) Your Blink app is not updated to the latest version.
How to Make Blink Clip Backup
If you want backup with Blink Camera, you can use Local Storage, the clips can be stored locally on the USB flash drive connected to the Sync Module 2 hub, depending on the camera model.
How to Share Blink Camera Access
Step 1: Create a primary account.
Step 2: Share the camera access with others using the primary account.
Step 3: Granting mobile access on other devices.
Step 4: Trusting a device for future access.
For a more detailed guide on how to share Blink camera access, read it as a reference.
Part 5: Frequently Asked Questions
Q1: Why Did My Blink Clip Fail to Load?
A1: Your Blink home security system is offline, remember that this system can't operate offline or without an internet connection. Check the internet connection, type of Internet Router, and Sync Module and it will probably resolve the problem.
Q2: Why Were My Clips Deleted Automatically?
A2: Cloud services of Blink Camera save the clips for 30 days which can be extended up to 60 days. The clips will be deleted automatically after 60 days. It is needed to note that make a USB drive backup before Blink Camera starts to delete clips from the Cloud.
Q3: Will I See My Local Storage Clips in the Blink App?
A3: Local Storage video clips are shown in the Blink app if you have a Sync Module 2 with a compatible USB drive.
Q4: How to Download Video Clips from Blink Camera?
A4: Blink Camera app. Simply open the app and choose the video that you want to download. Click on the share button and select "Save Video". This will download the video clip from Blink Camera.
Q5: How to Delete Blink Videos?
A5: You can use the Blink App to delete these photos and clips If you are using Local Storage to store clips and photos in the USB drive.
Q6: What If My USB Drive Carrying the Blink Video Clip Gets Corrupted?
A6: All your videos will be lost and erased if the USB drive carrying the Blink videos gets corrupted. In this case, you will need to format the USB drive first and then use professional software to recover Blink videos from the formatted USB.
Part 6: Conclusion
In general, using a Blink Camera that secures our home or even office. However, suppose you want to retrieve the deleted videos from Blink Camera. In that scenario, it depends on storage location, which means if your videos are stored on the Blink Cloud, with automated deletion after 30 or 60 days, you cannot recover it from the cloud server. Alternatively, if they're stored on USBs with Sync Module 2, it will make recovering deleted Blink videos possible. Also, if the above methods don't work, the only way is to use a third-party recovery tool to retrieve the files.