Have you ever been in a situation where you need a file but it was deleted weeks ago when you cleared out your computer? That's quite a common and frustrating experience.
But don't worry, you still have a chance to recover files deleted from Recycle Bin. In this article, we'll cover five methods that can help you retrieve your lost files and tips on how to prevent similar accidents in the future. So, let's get down to exploring these file recovery methods.
How to Recover Deleted Files from Recycle Bin Using Shortcut
If you accidentally deleted your important files just a few seconds ago, you may be lucky enough to recover them by pressing CTRL+Z on the keyboard. Or you may right-click anywhere on your computer screen and select 'Undo' on the pop-up menu. Your humanized computer system is well aware of these exceptions.
This is the fastest and most basic way to recover your deleted data, but it will not work for files that have been deleted a long time ago or after you have carried out a series of operations on your computer system.
How to Recover Files Deleted from Recycle Bin with Command Prompt
If you are unable to retrieve your files via Method 1, the command prompt is worth a shot! It doesn't require any software and is quite effective, though far from user-friendly.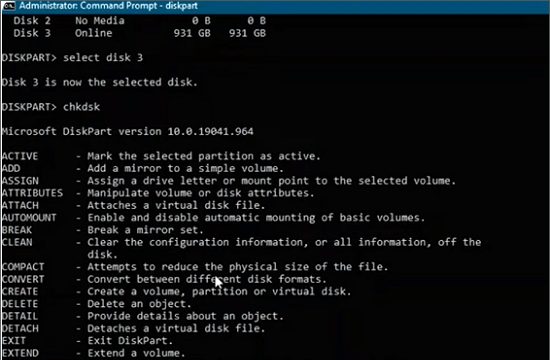 How to Recover Files that were Deleted from Recycle Bin via Command Prompt:
Step 1. Open the Start Menu or the Search Bar and input "CMD".
Step 2. Right-click on the icon "Command Prompt" and choose "Run as administrator."
Step 3. A new window will be open. Copy in [attrib -h -r -s /s /d X:*.*] and remember to replace the "X" in the command with your particular drive letter.
Step 4. Hit the "enter" key and your deleted or hidden files will be displayed on the drive you typed in.
Obviously, this is a quite complicated way to bring your deleted files back. If you are scared of complex commands, let's move on to the rest of the methods. There are still many simple ways for you to get your data back.
How to Recover Recycle Bin Deleted Files Using Third-Party Software
The intractable situation is that you might have emptied your Recovery Bin or you bypassed it when deleting the item and you can't find your data in any way.
At this point, you need third-party software to help you search for the lost file and recover it. ONERECOVERY is such an option for you. Good news! It is now available for Windows, and you can try it for free! 
Know little about computer things? Rest assured, the design of ONERECOVERY is super user-friendly. Even if you are a newbie, you are able to recover deleted files under the guidance of systematic instructions with great chances.
Here we are going to show you how to retrieve your important files in just minutes on Recycle Bin data recovery.
How to Restore Deleted Files from Recycle Bin Using ONERECOVERY:
1️⃣ Double-click the icon of the application to launch it.
2️⃣ Navigate the 'Quick Access' menu and hover your mouse over the Recycle Bin icon.
3️⃣ Click the Recycle Bin icon and the icon should change color when you click on it. Once you click, a quick all-around scan of the Recovery Bin will be kicked off.
4️⃣ After selecting the item, click on the blue 'Recover' button in the bottom-right corner of the control panel.
5️⃣ A pop-up window will appear in the center of the screen. Select a location to save your recovered item.
6️⃣ After selecting a location, click on the 'Recover' button to start the recovery process.
Pro-Tips:
✅ The recovered data will be stored in the location you selected in Step F. To avoid your recovered data being overwritten, do not save it to the same original location.
✅ Thumbnails of the items in the Recycle Bin will be listed on the screen during the quick scanning. You can click on each thumbnail and preview the item to confirm whether it's the one you want to recover.
✅ If you still can't find the lost data after the initial all-around quick scan, you can further try to search for it by using the second mode of scanning, 'deep scanning'.
✅ Recovery of multiple files or folders at once by selecting them together in Step D. The filter feature at the top of the panel provides the function of sorting items based on their type, size, time, and status, making the search more efficient.
How to Restore Deleted Files from Recycle Bin with Built-in Backup
These days, we have learned to back up important data on our computer due to the tension caused by computer malfunctions or accidental deletions. You may find your lost data through the following backup approaches if you have set up these backup tools in advance.
Your concerns also matter to the computer designers. The developers have enciphered multiple approaches to help you recover the data when designing and updating the computer system. One of these is File History, the built-in backup tool on Windows designed to automatically backup your files to an external drive or network location.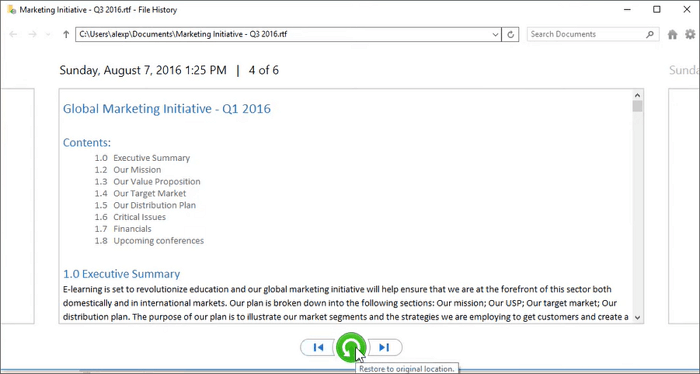 How to recover deleted files from Recycle Bin via File History on Windows 10/11:
Invoke the search bar and type in 'restore your files' or 'file history' to search
Click on 'Restore your files with File History' to open the restore control panel
In the newly opened window, input the name of the document or file that you want to recover.
Click on the file when it pops up in the search result.
Click the green button on the bottom of the window and choose 'replace the file in the destination'
This is another quick built-in tool on Windows 10 to help you restore the previous version of files. The operation of recovering deleted files from Recycle Bin is straightforward:
Open the file explorer
Navigate to the file you want to restore
Right-click on it and select 'restore the previous version'
How to Recover Files that Were Deleted from Recycle Bin with OneDrive
Developed by Microsoft Office and integrated into the Windows computer system, OneDrive provides a cloud storage service for users to store and access files, photos, and other data from any device connected to the Internet.
If you once used the app, you are likely to find your accidentally deleted files or the previous versions in OneDrive as it automatically backs up certain folders on your computer by default.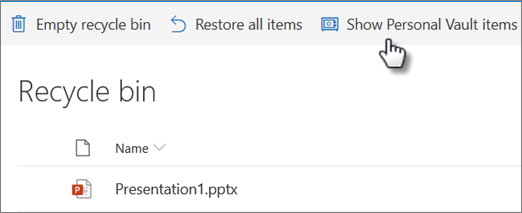 Tutorial of recovering deleted files from Recycle Bin via OneDrive:
Click on the 'OneDrive' icon or search for it in the search bar
Sign in with your Microsoft account
In the left-hand pane, click on the 'Recycle Bin' option
You will see a list of all the files and folders that have been deleted from your OneDrive account in the past 30 days
Click the checkbox next to the item you want to restore
Click the 'Restore' button to recover the selected items
Bonus Tip: How to Prevent Data Loss in the Future
Now, you are equipped with five different methods to recover your lost data. However, data loss can always be a major headache. The ideal situation is that you never lose your data. So it's quite important to know how to avoid data loss in advance. Here are some tips to protect your data and save yourself from a breakdown:
Change the default settings of the Recycle Bin to give yourself enough time to consider your choice. The Recycle Bin can be customized according to your needs, such as the size and time that you wish your Recycle Bin to keep the deleted trash for you. Try out the settings by clicking on its properties. Here are tutorials on how to customize your Recycle Bin.
Regularly Back Up Files on Your PC
Back-up is the most reliable way to save your data. Take full advantage of your computer's built-in backup feature. Set the frequency of the backups, like every 10 minutes or every 3 hours. If you like, you also can decide how long to keep your backups, one month, three months, or two years. It's important to note that to use this feature, you will need an external hard drive or other storage device to store the backed-up data. A little trouble but it's going to pay you out. Watch the video to get your data well backed up.
Closing Thoughts
These days, humans are hastily handling various kinds of documents, files, and massive amounts of data. We are vulnerable to losing important files. With the tips for recovering deleted files from Recycle Bin and the helpful tools we have discussed above, you can stay away from data loss.
You may also like:
How to Remove Recycle Bin from Desktop and Manage it
How to Fix the Error of Recycle Bin Corrupted on Windows
How to Fix Recycle Bin Is Grayed Out & Recover Data
Recover Your Deleted File from System Crashed Computer in 3 Steps